Satellite CPF Predictions
The ILRS network uses CPF orbit predictions provided by mission operators and analysis centres.
The SGF calculates precise satellite orbit predictions daily for most of the ILRS targets and makes these orbits available to other SLR stations internationally. These predictions can be compared in advance to those from other CPF providers so that stations and providers can be confident in their accuracy.
The Consolidated Prediction Format (
CPF
) is the official format used by the ILRS. It consists of geocentric X, Y, and Z positions at different epochs that can be interpolated for very accurate predictions. Accurate prediction of the positions of the full range of laser-tracked satellites is possible in a single, simple format.
The plots below compare the CPFs when there is more than one provider by taking the differences in metres between the orbital X, Y and Z values at zero hours for today and for the next three or four days.
Full residual plot comparisons are
plotted here
.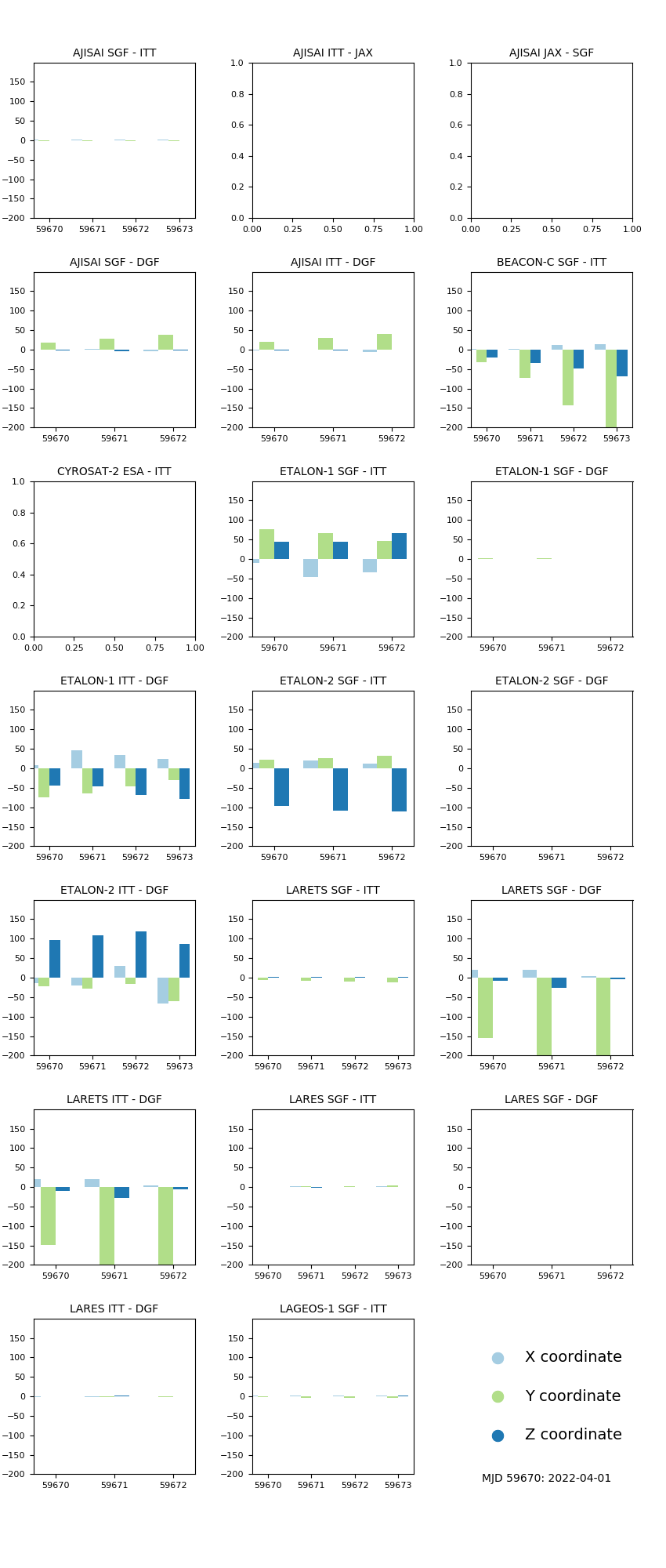 Difference between CPF Providers
        JD            X             Y             Z
Ajisai SGF - ITT    
 aji   60104.         2.425         0.876        -1.841
 aji   60105.         2.549         4.764        -2.069
 aji   60106.         2.968         9.108        -2.384
 aji   60107.         2.903        14.642        -2.140
Ajisai SGF - DGF    
 aji   60104.         0.201         1.292        -0.563
 aji   60105.         0.244         3.619        -0.970
 aji   60106.         0.464         6.760        -1.502
 aji   60107.         0.383        11.139        -1.796
 aji   60108.         0.506        17.629        -2.404
Ajisai ITT - DGF    
 aji   60104.        -2.224         0.416         1.278
 aji   60105.        -2.305        -1.145         1.099
 aji   60106.        -2.503        -2.348         0.882
 aji   60107.        -2.520        -3.502         0.344
Beacon-C SGF - ITT  
 bec   60104.        -0.459       -25.439        -1.304
 bec   60105.        -0.669       -44.293        -1.143
 bec   60106.         0.735       -68.231        -2.038
 bec   60107.        -3.087       -94.536         0.117
Etalon-1 SGF - ITT  
 eta   60104.       -33.989       -64.506       -35.229
 eta   60105.        25.236       -92.005        52.589
 eta   60106.        87.150      -101.270        -4.574
 eta   60107.        99.501      -125.572      -101.400
Etalon-1 SGF - DGF  
 eta   60104.         0.487         1.091        -0.508
 eta   60105.        -0.111         1.806        -0.595
 eta   60106.        -0.575         1.889        -0.234
 eta   60107.        -0.571         1.977         0.284
Etalon-1 ITT - DGF  
 eta   60104.        34.476        65.597        34.721
 eta   60105.       -25.348        93.811       -53.184
 eta   60106.       -87.726       103.159         4.340
 eta   60107.      -100.073       127.549       101.685
Etalon-2 SGF - ITT  
 etb   60104.        12.220         8.567        16.197
 etb   60105.        32.977        13.563         6.810
 etb   60106.        44.112        49.397         1.572
 etb   60107.        24.157        77.988        39.098
Etalon-2 SGF - DGF  
 etb   60104.        -0.015         0.019         0.297
 etb   60105.         0.021         0.058         0.203
 etb   60106.        -0.022         0.223         0.239
 etb   60107.        -0.065         0.283         0.285
Etalon-2 ITT - DGF  
 etb   60104.       -12.235        -8.549       -15.900
 etb   60105.       -32.955       -13.505        -6.607
 etb   60106.       -44.133       -49.175        -1.333
 etb   60107.       -24.279       -77.686       -38.610
Larets SGF - ITT    
 lar   60104.         1.962         4.054         3.677
 lar   60105.         3.183         8.047         3.964
 lar   60106.         3.990        13.247         5.139
 lar   60107.        -0.412        18.206         9.847
Larets SGF - DGF    
 lar   60104.        -2.886         7.476         1.814
 lar   60105.        -1.690        14.665         0.647
 lar   60106.        -0.454        25.069         0.007
 lar   60107.        -9.511        35.007         6.228
 lar   60108.         0.071        52.261        -1.897
Larets ITT - DGF    
 lar   60104.        -4.848         3.423        -1.863
 lar   60105.        -4.873         6.618        -3.317
 lar   60106.        -4.444        11.822        -5.132
 lar   60107.        -9.099        16.801        -3.619
LARES SGF - ITT     
 las   60104.         2.529        -2.050        -2.723
 las   60105.         2.465        -1.376        -3.135
 las   60106.         2.466        -0.130        -4.116
 las   60107.         1.934         1.034        -4.814
LARES SGF - DGF     
 las   60104.         0.030         0.646        -0.103
 las   60105.         0.002         0.944        -0.131
 las   60106.         0.030         1.257        -0.157
 las   60107.        -0.080         1.600        -0.136
 las   60108.         0.001         1.815        -0.185
LARES ITT - DGF     
 las   60104.        -2.499         2.696         2.620
 las   60105.        -2.463         2.320         3.005
 las   60106.        -2.436         1.386         3.959
 las   60107.        -2.014         0.565         4.678
LARES-2 SGF - DGF   
 la2   60104.         0.015         0.082        -0.223
 la2   60105.        -0.027         0.116        -0.203
 la2   60106.        -0.018         0.133        -0.237
 la2   60107.         0.000         0.184        -0.241
 la2   60108.        -0.046         0.190        -0.240
LAGEOS-1 SGF - ITT  
 lga   60104.         5.421        -2.821        -0.864
 lga   60105.         5.221        -1.094        -1.197
 lga   60106.         5.765        -2.876        -0.168
 lga   60107.         6.495         1.428        -2.148
LAGEOS-1 SGF - DGF  
 lga   60104.        -0.016        -0.080        -0.031
 lga   60105.        -0.017        -0.069        -0.032
 lga   60106.        -0.025        -0.109        -0.039
 lga   60107.        -0.021        -0.054        -0.066
 lga   60108.        -0.017        -0.020        -0.055
LAGEOS-2 SGF - ITT  
 lgb   60104.         3.005        -3.306        -3.680
 lgb   60105.         4.131        -5.310        -2.979
 lgb   60106.         2.711        -5.266        -3.224
 lgb   60107.         3.965        -7.060        -5.004
LAGEOS-2 SGF - DGF  
 lgb   60104.        -0.003         0.151        -0.034
 lgb   60105.        -0.048         0.215        -0.041
 lgb   60106.        -0.003         0.312        -0.030
 lgb   60107.        -0.096         0.430        -0.053
 lgb   60108.         0.021         0.550        -0.066
Stella SGF - ITT    
 ste   60104.         3.759        -0.077        -0.668
 ste   60105.         3.713         0.955        -0.481
 ste   60106.         4.003         2.480        -0.439
 ste   60107.         3.858         4.404        -0.180
Stella SGF - DGF    
 ste   60104.         0.579         0.694        -0.511
 ste   60105.         0.999         2.307        -1.000
 ste   60106.         1.319         5.158        -1.292
 ste   60107.         0.919         8.142        -1.324
 ste   60108.         1.222         9.613        -1.487
Stella ITT - DGF    
 ste   60104.        -3.179         0.771         0.156
 ste   60105.        -2.714         1.352        -0.518
 ste   60106.        -2.684         2.677        -0.853
 ste   60107.        -2.939         3.738        -1.143
Starlette SGF - ITT 
 str   60104.         2.655         1.784        -0.650
 str   60105.         3.177         3.197         0.316
 str   60106.         3.302         2.403         1.353
 str   60107.         4.047        -1.444         2.532
Starlette SGF - DGF 
 str   60104.         0.113        -1.672        -0.110
 str   60105.         0.232        -4.227        -0.510
 str   60106.         0.839        -8.388        -0.364
 str   60107.        -0.114       -14.264         0.326
 str   60108.        -0.263       -21.661         0.510
Starlette ITT - DGF 
 str   60104.        -2.542        -3.456         0.540
 str   60105.        -2.945        -7.424        -0.827
 str   60106.        -2.463       -10.790        -1.717
 str   60107.        -4.161       -12.820        -2.206